Selected Language Not Found
This page is not available in the language that was selected in the URL (L=2). You will be redirected to an existing language of this page. Please click here to go to an existing language.
Jana Mewe
Department of German language and literature I
Linguistics
Office: 2.120
Phone: +49 (0)221 470-1666
E-Mail: jana.mewe[at]uni-koeln.de
Office hours by arrangement via email.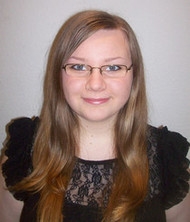 CV
Education
since 10/2014 doctoral candidate of Prof. Dr. Beatrice Primus and Prof. Dr. Petra Schumacher
04/2012 – 04/2014 Master's degree: German Language and Literature/ English Linguistics (University of Cologne)
Master thesis: Kasusmatching bei freien Relativsätzen im Deutschen - Eine experimentelle Untersuchung
-> awareded with Fakultätspreis der Philosophischen Fakultät
09/2010 – 02/2011 Erasmus scholarship: Queen's University Belfast (Politics)
10/2007 – 03/2012 Bachelor's Degree: German Language and Literature/ English Studies (University of Cologne)
Bachelor thesis: Kasuserwerb im Deutschen
Academic career
Miscellaneous
04/2008 – 04/2014 student council (English Department, University of Cologne)
Mitgliedschaften
Forschungsschwerpunkte
Morphosyntax
Kasus
(freie) Relativsätze
Optimalitätstheorie
Psycholinguistik
Presentations
01/2018 Alles ist relativ? Evidenz aus offline Akzeptabilitätsurteilen und online Lesedaten zur Verarbeitung freier Relativsätze im Deutschen
3. internationaler Workshop "Germanistik zwischen Köln und Tokio - Grammatik im Spannungsfeld zwischen Syntax und Semantik"
University of Cologne und University of Tokyo organized by the chair of Prof. Dr. Klaus von Heusinger)
07/2017 Kasusmatching + x - Einflussfaktoren der Verabreitung freier Relativsätze
University of Cologne: Empirische Linguistik (Prof. Dr. Schumacher)
06/2017 Case(mis)matching in German free relative clauses in the self-paced reading paradigm
Experimental Linguistics Conference (Menorca, Spain), Dr. Vincent Torrens, National Distance Education University, Department of Educational Psychology, Madrid, Spain
11/2016 Kasusmatching bei freien Relativsätzen
University of Cologne: Empirische Linguistik (Prof. Dr. Schumacher)
12/2014 Kasusmatching bei freien Relativsätzen - Eine experimentelle Untersuchung
Forum Linguistik, Rheinische Friedrich-Wilhelms University Bonn
05/2014 Experimentelle Evidenz für Kasusmatching in freien Relativsätzen
University of Cologne: Lecture: Flexion (Prof. Dr. Beatrice Primus)
01/2014 Kasuserwerb im Deutschen
University of Cologne: Lecture: Einführung in die Optimalitätstheorie (Prof. Dr. Beatrice Primus)
12/2012 Kasuserwerb im Deutschen
University of Cologne: Lecture: Spracherwerb (Prof. Dr. Beatrice Primus)