Charlotte Coch
Institut für Deutsche Sprache und Literatur I
Neuere deutsche Literaturwissenschaft
Raum: 2.220
Tel: +49 (0)221 470-5229
E-Mail: charlotte.coch(at)uni-koeln.de
Sprechstunde nach Vereinbarung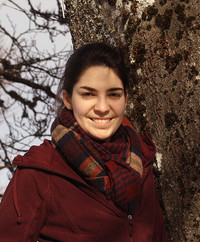 Biographisches
Oktober 2008 – Juli 2014 Studium der Germanistik und Anglistik in Freiburg, Hamilton, NY und Köln
Seit Oktober 2014 wissenschaftliche Mitarbeiterin am Lehrstuhl Prof. Dr. Torsten Hahn
Publikationen
Form. Perspectives on a Literary Theory (Form. Perspektiven einer literaturwissenschaftlichen Theorie. Universität zu Köln, 28./29.03.2019.), in: JLTonline (07.09.2019). (http://www.jltonline.de/index.php/reviews/article/view/986/2333)

»Telephone Works« – Symbolische Kommunikationstechnik in Twin Peaks, in: The Owls Are Not What They Seem – Neue Perpektiven auf "Twin Peaks" (erscheint 2019).

Combination of Order and Disorder. The Slip Box as a Medium for Second Order Communication, in: Philology in the Making. Bielefeld 2019, S. 177-185.

»Aufdringliche Aktivitäten« – Luhmanns Verständnis von Handlungsfähigkeit am Beispiel seiner Auseinandersetzung mit der 'Frauenforschung', in: denken, schreiben, tun. Politische Handlungsfähigkeit in Theorie, Literatur und Medien. Berlin u.a. 2018, S. 103-120.

Noch einmal: Lebensform und Möglichkeit des Romans, in: Schliff 5 (2016), S. 121-129.
Forschungsschwerpunkte
Literatur und Philosophie der Frühromantik
Theorien und Poetiken der Form
Systemtheorie