Caterina Ventura
Department of German language and literature I
Linguistics
SFB 1252 Prominence in Language
Office: Luxemburger Str. 299, 3.10
Phone: +49 (0)221 470-89914
E-Mail: cventura
uni-koeln.de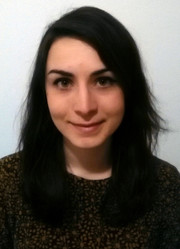 CV
since June 2017 PhD student in a.r.t.e.s. Integrated Track (Class 8)
since April 2017 scientific associate of the Institut für deutsche Sprache und Literatur I (Team Prof. Dr. Petra B. Schuhmacher) of the University of Cologne. Employed in Project A01 - Intonation and Attention Orienting: Neurophysiological and behavioural correlates in the SFB 1252 Prominence in Language.
from 10/2014 to 03/2017 MA in Italian studies and linguistics at the University of Bologna.
form 09/2011 to 11/2014 BA in Italian literature and linguistics at the University of Bologna.
Research interests
Phonetics and Phonology
Prosody and neurocognitive language processing
Talks
Task determines differential prosodic marking of focus in Italian (Postervortrag with Petra B. Schumacher, Martine Grice and Michelina Savino), "Second International Conference Prominence in Language", Universität zu Köln, 11.-13. Juli 2018.