Prof. Dr. Günter Blamberger
Department of German Language and Literature I
Modern German Literature
Tel.: +49 (0)221 470 1292
E-Mail: guenter.blamberger(at)uni-koeln.de
Office hours: by arrangement (via email)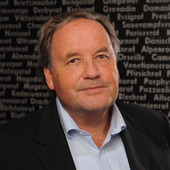 Research Foci
Creativity Research (cross-cultural and interdisciplinary)
Kleist
Aesthetic Ideas in Contemporary Literature (transnational)
Recent Publications
Blamberger G., Freimuth A., Strohschneider P., Hg. (2018): Vom Umgang mit Fakten. Antworten aus Natur-, Sozial- und Geisteswissenschaften. Paderborn: Fink.
Blamberger G., Kakar S., eds. (2018): Imaginations of Death and the Beyond in India and Europe. Singapore: Springer.
Blamberger G., Tawada Y., Dopieralski M., Hg. (2018): Beyond Identity – Die Kunst der Verwandlung. Tübingen: Konkursbuch.