Prof.' Dr.' Monika Schausten
Prof. Dr. Monika Schausten
Department of German language and literature I
Medieval German language and literature
Office: 2.110 (Philosophikum)
Phone: +49 (0)221 470-7373
Phone: +49 (0)221 470-7372 (Sekretariat)
Email: sekretariat-schausten
uni-koeln.de
Office hours: see PhilServices
Information on academic writing (for a short summary click here).
Key research areas
German Literature of the Middle Ages and Early Modern Times
Textual Media: Visual Topoi and Color Discourses in Medieval Modern Literature
Economies of Exchange in Medieval Literature
Neuerscheinung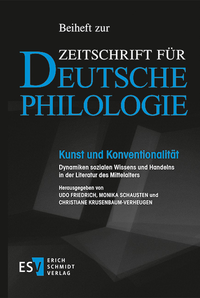 Kunst und Konventionalität. Dynamiken sozialen Wissens und Handelns in der Literatur der Mittelalters. Hrsg. von Udo Friedrich, Christiane Krusenbaum-Verheugen und Monika Schausten. Berlin 2021 (Beiheft zur Zeitschrift für deutsche Philologie).
Recent publications
Dingkulturen. Objekte in Literatur, Kunst und Gesellschaft der Vormoderne. Hrsg. v. Anna Mühlherr, Bruno Quast, Heike Sahm und Monika Schausten. Berlin 2016 (Literatur - Theorie - Geschichte. 9), 2. Aufl. Berlin 2018.
Zwischen Wissen, Neugierde und Glauben: Von der produktiven Kraft des (Ver)Irrens in Hartmanns von Aue 'Der arme Heinrich'. In: Irrtum — Error — Erreur. Hrsg. von Andreas Speer und Maxime Mauriège, Berlin/Boston 2018 (Miscellanea Mediaevala, 40), S. 699-717.
Beim Barte des Kaisers: Soziales Chaos und poetische Ordnung in Konrads von Würzburg 'Heinrich von Kempten', erscheint in: Erzählte Ordnungen – Ordnungen des Erzählens. Hrsg. von Daniela Fuhrmann und Pia Selmeyer, Berlin, New York 2019 (Trends in Medieval Philology).