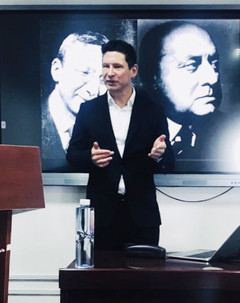 Office hours during the pandemic:
You can find Prof. Hahn's office hours here: PhilServices
The office hours take place via Zoom due to the current situation. As always, please apply via PhilServices for one of the appointments. You will be invited to the Zoom session via email.
Key research areas
Aesthetics and Poetics: Coding of Literature / Theory of Form
Media theory and literature
Literature and political philosophy
Pop and / as surface
Recent publications
Die Kunst des Möglichen unter schwarzer Flagge (rother Tod auf derselben), in: die horen. Zeitschrift für Literatur, Kunst und Kritik (2021), 66. Jg., Nr. 282, S. 44-51.

Die skulpturale Form der Literatur. Das Buch als ästhetisches Artefakt mit paradoxer Tiefe (Übersetzungsketten), in: Formästhetiken und Formen der Literatur. Materialität – Ornament – Codierung, hg. v. Torsten Hahn u. Nicolas Pethes. Bielefeld 2020, S. 337-356.

Jenseits der "gesunden Philosphie". Kunst und Leben in Friedrich Schlegels Transcendentalphilosophie, in: Blütenstaub. Jahrbuch für Frühromantik 5 (2019), S. 273-286.

"Some Girls Are Just Born With Glitter in Their Veins:" A Beginning of Pop Literary Communication from Interference (around 1700) to its Echo (around 2000), in: Revisiting Style in Literary and Cultural Studies (2019), S. 335-344.