Prof. Dr. Petra Schumacher
Professor of German Linguistics / Empirical Linguistics
Institute for German Language and Literature I
Linguistics
Albertus-Magnus-Platz
D-50923 Köln
Office: Philosophikum, room 2.124
Phone: +49 - 221 - 470 - 2696
Fax: +49 - 221 - 470 - 5107
Email: petra.schumacher(at)uni-koeln.de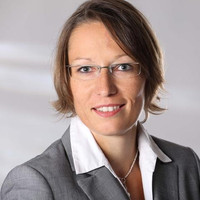 Office Hours
Student requests to schumacher-info
uni-koeln.de.
My zoom office hours are on Thursdays 2-3pm. Please sing up on the scheduler of UoC.
Main Research Topics
Experimental pragmatics
Information structure
Psycho/Neurolinguistics
Reference
Recent Publications
Baumann, Stefan & Petra B. Schumacher. (2020). The Incremental Processing of Focus, Givenness and Prosodic Prominence. Glossa: A Journal of General Linguistics, 5,1, 6.
Fuchs, Melanie & Petra B. Schumacher. (2020). Referential Shift Potential of Demonstrative Pronouns – Evidence from Text Continuation. In: Åshild Næss, Anna Margetts & Yvonne Treis. (Eds.) Demonstratives in Discourse (Topics at the Grammar-Discourse Interface ). Berlin: Language Science Press, 185-213.
Patterson, Clare & Petra B. Schumacher. (2020). The Timing of Prominence Information during the Resolution of German Personal and Demonstrative Pronouns. Dialogue & Discourse, 11,1, 1-39.
Röhr, Christine T., Ingmar Brilmayer, Stefan Baumann, Martine Grice & Petra B. Schumacher. (2020). Signal-Driven and Expectation-Driven Processing of Accent Types. Language, Cognition and Neuroscience, 36,1, 33-59.
Ruigendijk, Esther & Petra B. Schumacher. (2020). Variation in Reference Assignment Processes. Psycholinguistic Evidence from Germanic Languages. The Journal of Comparative Germanic Linguistics, 23,1.
von Heusinger, Klaus & Petra B. Schumacher. (2019). Discourse Prominence: Definition and Application. Journal of Pragmatics, 154, 117-127.
Schumacher, Petra. B. (2019). Metonymy. In: Chris Cummins & Napoleon Katsos. (Eds.) The Oxford Handbook of Experimental Semantics and Pragmatics. Oxford: Oxford University Press, 316-330.
Schumacher, Petra B. (2018). Experimentelle Pragmatik. In: Frank Liedtke & Astrid Tuchen. (Eds.). Handbuch Pragmatik. Stuttgart: J.B. Metzler, 113-121.
Schumacher, Petra. B. (2018). On Type Composition and Agentivity. Theoretical Linguistics, 44, 1-2, 81-91.
Ventura, Caterina, Martine Grice, Michelina Savino, Diana Kolev, Ingmar Brilmayer & Petra B. Schumacher. (2020). Attention Allocation in a Language with Post-Focal Prominences. NeuroReport, 31, 8, 624-628.
Speaker of SPP 1727 "XPrag.de" (with Uli Sauerland, ZAS)
Project within the SPP 1727 "Processing speaker's meaning: Epistemic state, cooperation and commitment"

Momentum Project "Communication electrified - towards a natural investigation of real-time language processing"
Project within SFB 1252 "Forward and backward functions of discourse anaphora"
Project within SFB 1252 "Intonation and attention orienting: Neurophysiological and behavioral correlates" (with Martine Grice)

Experimental Linguistics in Cologne